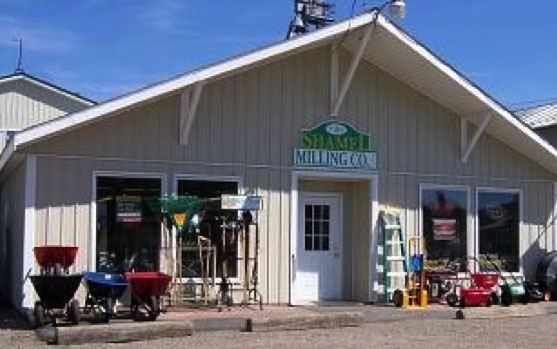 "The Biggest Little Feed & Farm Supply in Town!"

As the regional Hubbard Life and SHOW RITE Show Feeds Dealer, Shamel Milling offers Goat feeds and supplementation for lactation, growing and showing.
HUBBARD LIFE GOAT FEEDS
&
SHOW-RITE SHOW GOAT FEEDS
Glen Martin Advancer Plus R20 (advance maturity, bloom and muscularity in all stages)
Glen Martin Climatizer (bloom, freshness and muscle expression in kids, wethers and does)
Duncan Grower (accelerate growth & development in doe kids, show and donor does, and breeding bucks.)
Duncan Fat-N-Sassy (high energy ration. bloom, to mature breeding goats or as sale prep for kids)
SHOW-RITE SHOW GOAT SUPPLEMENTS:
Rite Factor for Goats (special order) (drug free top dress, maximize muscle shape, performance, increase metabolic rate and boost immune response).
Accent (supports strong gut health, improves appetite and boosts immune response)
Muscle-In-Motion (M-N-M) (improves muscle mass, shape and water retention without Paylean or drugs)
Refresh (high energy electrolyte for all livestock. contains "CRAVE-IT" to increase consumption)
Seco-Sorb (drying agent to use during kidding or daily in stalls).
CRYSTALYX GOAT SUPPLEMENTS
DEWORMERS
Open Hours
Mon-Fri: 8am - 5pm
Saturday 8am-4pm
Closed Sunday
---
Copyright © 2021 Shamel Milling Co. East Concord, NY
~ All rights reserved. No use of text or images without express permission. ~