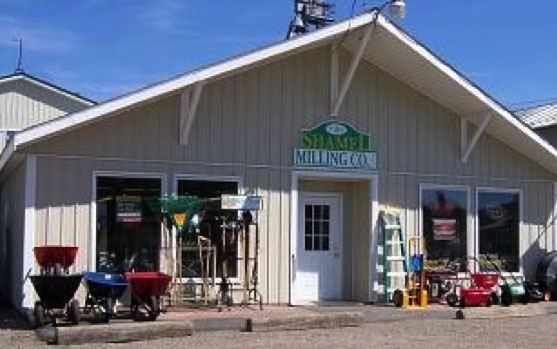 "The Biggest Little Feed & Farm Supply in Town!"
Concord Maid Show Pig Feeding Program

As the regional dealer of SHOW-RITE Show Feeds, Shamel Milling offers a complete line of SHOW-RITE Swine feeds and supplements.
Don't know which feeds to feed?
Don't know how to feed your barrows differently then your breeding gilts?
Don't know how to feed average muscled differently than heavy muscled hogs?
Don't know at what stage or weight to adjust the feeding program?
WE CAN HELP!  ~ Download a SHOW-RITE and CONCORD MAID SHOW PIG FEEDING SCHEDULE.
Are you looking for a customized week by week feeding schedule that includes weekly weight gain benchmarks, what feed to feed and what supplements to use? Contact us about the SHOW-RITE Feed Decision Maker.
View a sample of what the SHOW-RITE FEED DECISION MAKER can do for you.
SHOW-RITE SWINE FEEDS IN-STOCK AT SHAMEL MILLING:
Kick-Off (Weaning Feed for 7-21 days of age)
Show Pig Starter 50 Mecca (starter micro pellet weaning till 40 lbs)
Show Pig 40-90 (starter/grower 19% pellet)
E-Z Tone (Grower/Finisher 16% pellet)
Show Pig 10.0 A2 Base Mix
19% Ground Meal (19% mash)
Concord Maid Show Pig 19 (19% mash with Show Pig 10.0 A2)
Concord Maid Show Pig 17 (17% mash with Show Pig 10.0 A2)
Concord Maid Show Pig 16 (16% mash with Show Pig 10.0 A2)
Concord Maid Show Pig 15 (15% mash with Show Pig 10.0 A2)
SHOW RITE and OTHER SUPPLEMENTS AVAILABLE AT SHAMEL MILLING:
Trans Rite Ultra Sow (for farrowing)
Opti-Lac Baby Pig Milk Replacer
Rite Muscle (Medicated with Ractopamine – formerly Muscle Maker)
Fat N Fluffy (Fat Supplement)
Muscle-N-Motion (M-N-M) (mass, muscle, shape and water retention)
Rite Factor (Special Order) (muscle, expression, lung & immune function)
Accent (Special Order) (gut health, appetite, immune response)
Refresh (electrolyte, has "Crave It" to increase consumption)
CLE Oil
Seco-Sorb (Drying agent used in farrowing)
Grazix (all natural polyphenols for Pig Scours and gut distress)
Steam Rolled Oats
Steam Flaked Barley
Flax Oil
Open Hours
Mon-Fri: 8am - 5pm
Saturday 8am-4pm
Closed Sunday
---
Copyright © 2021 Shamel Milling Co. East Concord, NY
~ All rights reserved. No use of text or images without express permission. ~