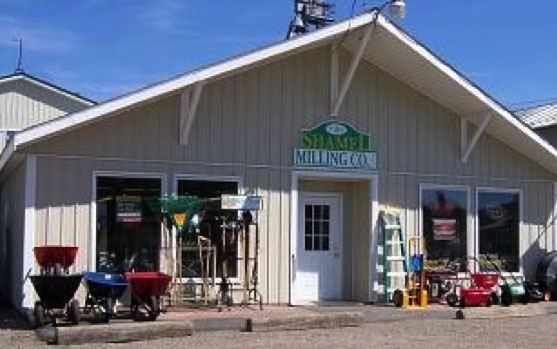 "The Biggest Little Feed & Farm Supply in Town!"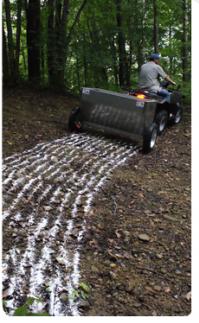 Applications For This Spreader
The Better Spreader unit was originally designed for hunting food plot use. However, it is also an invaluable implement for anyone who requires specific and accurate applications of powdered or granular material from a compact unit. Applications include:
Food Plots (large or small)
Golf Courses
Large Estates
Gentlemen/Hobby Farms
Campuses
Orchards
Vineyards
Commercial/Industrial Parks
Nurseries
Tree Farms
The Better Spreader can also be used to spread salt on icy sidewalks and driveways for hospitals, schools, college campuses or any other commercial site where icy conditions can create a hazard. Unlike broadcast spreaders, The Better Spreader's low profile and clearance significantly reduces drift due to wind. Material is deposited where you want it, not on the grass or in landscaping.
How did the Better Spreader come about?
More information at thebetterspreader.com
Why stainless steel?
The purchase of a specialized piece of equipment is a significant investment. That is why we worked with Scott Lons from "The Better Spreader" to design a multifunctional and durable unit made of stainless steel construction. When you invest in a piece of equipment, it should last a lifetime.
What is the hopper capacity?
Even with its low profile, and 4′ hopper width, The Better Spreader will hold 1,000 lbs of pulverized, pelletized, granular lime, fertilizer and ice melting salt.
Do I need to disengage the agitator/drive mechanism for transport?
No. The unique design of our agitator system does not require that it be disengaged for transport, either full or empty. Please note, this spreader is not designed for highway use or for transporting loads of lime long distances at high speeds.
What is the distribution feed rate?
The two stage delivery system allows for nearly infinite adjustability when applying material. From a light dusting to several tons per acre.
What are the physical dimensions of the unit?
The Better Spreader measures just 62″ from outside the wheels, is 33″ from the ground to the top of the hopper, has a 48″ distribution width, and has a 57″ length from the center of the drive line to the hitch point.
Our goal was to design a compact unit that could easily be transported to remote food plots, turf and/or pastures on existing ATV trails, across sensitive soils and from one location to another on a small trailer or pickup bed.
How much does the unit weigh?
Approximately 270 lbs.
How does the unit attach to my tractor, lawn mower, or ATV?
The Better Spreader comes with a 5/8″ pin style hitch. Therefore, making it compatable with lawn tractors, ATVs, UTVs, compact tractors, and small trucks.
Is it necessary to maintain a specific travel rate to evenly distribute material?
No. This feature is extremely beneficial. Other spreader designs require a constant, and often specific rate of travel to maintain even distribution once the drop mechanism is opened, and will continue to deposit material even if you stop moving. This is not the case with The Better Spreader. The first stage of our two stage delivery system acts as a metering device which turns one revolution for each revolution of the wheels. This means that as the travel rate varies, the rotary meter maintains a one-to-one ratio with the wheel rotation, regardless of travel speed. This allows for consistent application at varied rates of travel, and should you stop completely, the rotary shaft blocks continued run out until you resume spreading.
What is the rental fee for The Better Spreader?
Even with stainless steel construction and what is a clearly superior design over other material spreaders available, we realize that the price must be competitive We strive toward being economical that we are able to offer the best product available at a reasonable price.
One Day Rental = $75.00
Half Day Rental = $40.00
Delivery not inluded. Call for delivery quote.
How do I rent The Better Spreader unit?
We encourage you to e-mail us or better still, to call us directly so that we can get to know you, your needs, and what you can expect from The Better Spreader unit you rent.
How do I buy a Better Spreader unit?
We encourage you to email Scott Lons from Better Spreader for information on purchasing a Better Spreader. Contact Scott Lons here
Open Hours
Mon-Fri: 8:30am - 5pm
Saturday 8:30am-2pm
Closed Sunday
---
Copyright © 2023 Shamel Milling Co. East Concord, NY
~ All rights reserved. No use of text or images without express permission. ~