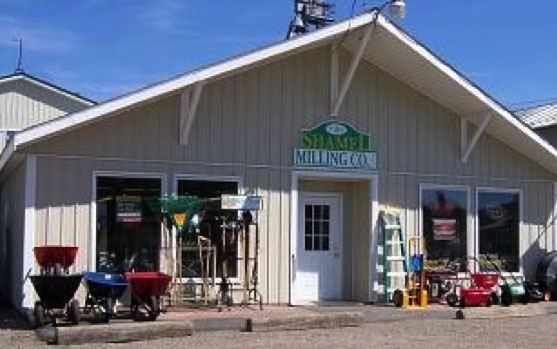 "The Biggest Little Feed & Farm Supply in Town!"
Local Delivery
Shamel Milling Co. offers local delivery of product orders.  Orders choosing Shamel Milling local delivery must be placed at least 24 hours in advance of associated delivery day for the "Ship To" city/town.  Those orders placed after the 24 hour cutoff for delivery  will be included in the deliveries for that city/town the following week. 
The following is our local delivery route schedule.
To find your delivery day, please locate your city/town in the schedule below.  
Shamel Milling Local Delivery Route Schedule
Monday
---
Akron
Akron
Alden
Alexander
Amherst
Appleton
Arcade
Atlanta
Attica
Barker
Basom
Batavia
Bliss
Bloomfield
Bowmansville
Buffalo
Burt
Castile
Chaffee
Cheektowaga
Clarence Clarence
Conesus
Corfu
Cowlesville
Crittenden
Dale
Darien Center
Depew
East Amherst
East Aurora
East Bloomfield
East Concord
East Pembroke
Elma
Gainesville
Gasport
Geneseo
Getzville"GorhamGrand IslandHemlockHollandHoneoyeHoneoye FallsIoniaJavaJava CenterKnowlesvilleLakevilleLancasterLeicesterLewistonLimaLinwoodLivoniaLivonia CenterLockport
Lyndonville
Marilla
Medina
Middleport
Middlesex
Model City
Mount Morris
Newfane
Niagara Falls
Niagara University
North Java
North Tonawanda
Oakfield
Olcott
Panama
Pavilion
Pavillion
Perry
Piffard
Portageville
Ransomville
Rushville
Sanborn
Scottsburg
Silver Lake
Silver Springs
Sonyea
South Lima
South Wales
Spring Brook
Stanley
Stella Niagara
Strykersville
Tonawanda
Varysburg
Wales Center
Warsaw
Waterport
WestBloomfield
Williamsville
Wilson
Wyoming
YorkYoungstown
Tuesday
---
Adams Basin
Albion
Allegany
Avon
Belfast
Belmont
Bergen
Black Creek
Brockport
Byron
Caledonia
Canandaigua
Centervile
Centerville
Churchville
Clarendon
Clarkson
Clifton Springs
Cuba
East Bethany
East Rochester
Elba
Fairport
Fancher
Farmersville Station
Farmington
Franklinville
Freedom
Great Valley
Hall
Hamlin
Henrietta
Hilton
Holley
Houghton
Houghton
Hume
Kendall
Kent
Kill Buck
Le Roy
Limestone
Macedon
Manchester
Mendon
Morton
Mumford
North Chili
North Greece
Palmyra
Penfield
Pike
Pittsford
Retsof
Rochester
Rush
Rushford
Saint Bonaventure
Sandusky
Scottsville
Seneca Castle
Shortsville
South Byron
Spencerport
Stafford
Stafford
Union Hill
Victor
Walworth
Webster
West Henrietta
Yorkshire
Wednesday
---
Cattaraugus
Collins
Conewago Valley
Dayton
Delevan
East Otto
East Randolph
Ellicotville
Frewsburg
Gowanda
Leon
Little Valley
Machias
Otto
Randolph
Salamanca
Steamburg
West Valley
Thursday
---
Athol Springs
Boston
Brant
Colden
Colden
Collins
Collins Center
Derby
Eden
Farnham
Forestville
Glenwood
Hamburg
Irving
Lake View
Langford
Lawtons
North Boston
North Collins
North Evans
Orchard Park
Perrysburg
Sardinia
Sheridan
Silver Creek
Springville
Versailles
West Falls
West Seneca
Friday
---
Addison
Alfred
Alfred Station
Allentown
Alma
Almond
Andover
Angelica
Arkport
Ashville
Avoca
Bath
Belmont
Bemus Point
Bolivar
Bradford
Branchport
Brocton
Cameron
Cameron Mills
Campbell
Canaseraga
Canisteo
Cassadaga
Cassadaga
Celoron
Ceres
Chautauqua
Cherry Creek
Clymer
Cohocton
Coopers Plains
Coudersport
Dalton
Dansville
Dewittville
Dunkirk
Ellington
Falconer
Fillmore
Findley Lake
Fredonia
Friendship
Gerry
Greenhurst
Groveland
Hammondsport
Hinsdale
Hornell
Hunt
Jamestown
Jasper
Kanona
Kennedy
Keuka Park
Lakewood
Lakewood
Lily Dale
Little Genesee
Maple Springs
Mayville
Naples
Niobe
Nunda
Olean
Osceola
Panama
Penn Yan
Perkinsville
Portland
Portville
Prattsburgh
Pulteney
Rexville
Richburg
Ripley
Savona
Scio
Sherman
Sinclaireville
Sinclairville
South Dayton
Springwater
Stockton
Stow
Swain
Troupsburg
Tyrone
Van Buren Point
Wayland
Wayne
Wellsville
Wellsville
West Clarksville
Westfield
Westons Mills
Whitesville
Woodhull
Open Hours
Mon-Fri: 8am - 5pm
Saturday 8am-4pm
Closed Sunday
---
Copyright © 2021 Shamel Milling Co. East Concord, NY
~ All rights reserved. No use of text or images without express permission. ~